Town
Newsletters/Articles

Just For Kids    |    for Kids Only
---
published on 11/28/2006


Second Annual Family Halloween Stroll on Shoal Creek

By
sigmtn.com staff writer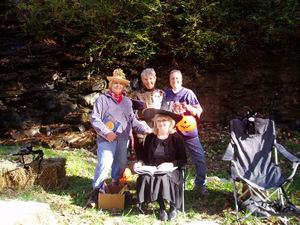 Marilee Stites, Betsy Abrahamson,
Debbie Fassino behind Mary Scott Norris

One of Signal Mountain's most avid conservationist, ecologist, and environmentalist (among other things) is Debbie Fassino. Having started the Environmentalist Club, along with Corrine Bunch, at Thrasher Elementary School, her love for nature and the preservation of its beauty prompted her to create the Sunday Stroll on Shoal Creek.

Now in its third year, the Stroll on Shoal has become a tradition for like-minded citizens of the Town of Signal Mountain. Shoal Creek Road is not like other roads within the Town of Signal Mountain as it is a road that passes through a public park that is part of the Town of Signal Mountain. The first year the Stroll was held the first Sunday of each month in the afternoon between 1:00 and 5:00. The next year by popular demand the Stroll was extended to every Sunday through out the year.

Unfortunately there were more citizens who complained about the inconvenience than those who praised it so the Town manager decided to open it for three months in the spring and three months in the fall. The Stroll is open April, May and June and then picks back up in the fall during the months of September, October, and November.

In 2005 Mrs. Fassino wanted to bring attention to Stroll while at the same time providing a service to the community so she established the Family Halloween Stroll on Shoal Creek. Recruiting volunteers to read stories, children of all ages were invited to sit on bales of hay, donated by Dr. Bob Spaulding and the Monster Barn , and then treated to a variety of tales. Entrance to this event is a canned good for the Signal Mountain Social Services Food Pantry. Cash and check donations were accepted as well.

So successful, Mrs. Fassino repeated the event, which was held on Sunday, October 29th. Readers came in all ages and included Marilee Stites, Mary Scott Norris, Betsy Abrahamson, and sisters Sara and Becca Wilson. The two youngest readers were Ailleen Bell and Taegan Bunch.

"It was a wonderful day, beautiful, and we collected cash and food which we were proud to give to the Food Pantry," said Mrs. Fassino.

We congratulate Mrs. Fassino and the volunteers who read and thank them for providing this opportunity for all the residents on the mountain.