Mountain Vision Strategic Planning Process (pdf)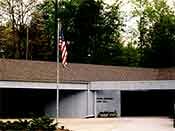 Town Hall
1111 Ridgeway Avenue



Town Website: www.signalmountaintn.gov

Mayor: Bill Lusk
Vice-Mayor: Susan Robertson
Council members: Annette Allen, Hershel Dick, Paul Hendricks

Town Attorney: Phil Noblett 
Town Manager: Honna Rogers
Town Recorder: Mark Johnson
The Town of Signal Mountain has a Council/ Manager form of government. In February 1990 a Town Council, composed of 5 members, was formed. The five member Town Council is elected by the voters with three of the five members running every two years on even numbered years, matching the national elections. Of the three top vote getters every two years, two receive four-year terms and one (the third place finisher) receives a two-year term. This guarantees that three members of the Council will be up for election every two years. The Mayor and the Vice-Mayor are selected from among the Council members. The Mayor presides at Council meetings and otherwise provides leadership for the Council and the Town. The Vice-Mayor acts as Mayor in the Mayor's absence.

The Council has a number of advisory boards composed of volunteers who are interested in serving their community. They include the Planning Commission, Recreation Advisory Board, Library Board, Parks Board, Design Review Commission, Board of Zoning Appeals, and Condemnation Board. The Planning Commission, with staff support supplied by the Chattanooga/Hamilton County Planning Staff and the Signal Mountain Town Manager, is responsible for reviewing subdivision plats, rezoning recommendations to the Council, annexations, and long-range planning.
Monthly meeting schedule:
| | | |
| --- | --- | --- |
| Town Meeting | 2nd Monday | 6:30pm |
| Planning Commission | 1st Thursday | 6pm |
| Recreation Board | 3rd Thursday | 7pm |
| Town Court | First and third Tuesday and the third Thursday | 7pm |
All meetings are held monthly at the Town Hall and are open to the public.

Building Inspector


All new residential and commercial construction, as well as additions, renovations and repairs, require building permits from the Building Inspector. All fences, storage building, decks, and swimming pools must also have building permits from this office.
Leash Law
Animal Control
(Police Dispatcher)


All dogs off their owners property must be on a leash. Dogs off their owners property without being leashed, and dogs which bark, bite and cause property damage to others, may be cause for the owner to be cited to court for an Ordinance violation.