---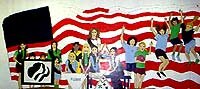 GIRL SCOUTS
Girl Scouts have a very active presence in the Signal Mountain community. With over 200 girls in the O-Ten-Talla service unit, scouting serves one in four girls on the mountain, surpassing the national average of one in nine. With 16 troops from Daisy to Cadet, there are scouting activities available to girls from 5 to 17 years of age. Activities include the fall scarecrow - making project, a park cleanup day called Sparkle Day, a father/daughter sock-hop, International Night which benefits the World Association Friendship Fund,

and camping at Camp Adahi on Lookout Mountain. All girls in the mountain community are welcome in scouting and adult leadership is always needed for troops and projects.
Contact:
Moccasin Bend Girl Scout Council
87SCOUT ().
---
EXPLORER POST
2049 Offers young men and women (ages 14-21) the opportunity to work as volunteer firemen and policemen. Special skills and responsibility traits are emphasized, and one-on-one training with active duty fire and police officers is part of the activity.
Contact:
Signal Mtn. Fire & Police Department