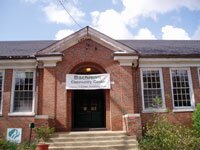 Our mission is to foster a sense of community by supporting programs and events that reflect the needs of all residents of Walden's Ridge, while continuing to preserve our historic building as a community resource. The Center is located at 2815 Anderson Pike, Walden, TN, in the former Nathan L. Bachman School building, which is listed on the National Historic Register. Office hours are 9am - 3 pm Monday-Friday. For information call or email .
Directions: Take Hwy. 27 North from Downtown Chattanooga or Hwy. 27 South from Hixson and Soddy-Daisy to the Signal Mtn./ Hwy 127 Exit. Exit from Chattanooga only goes in the direction of Signal Mtn. Exit from the North: Turn right at end of exit. Take Hwy. 127 North up Signal Mtn. Stay on Hwy. 127 North through the traffic light. 3.5 miles past the traffic light, turn left on Anderson Pike, just before Signal Mtn. Church of the Nazarene. The turn is roughly across the street from a blue water tower. There is a sign marking the turn. Go 1/4 mile to Bachman Community Center. Drive past the building and turn left into the driveway to park in the back.
Parking - on Anderson Pike in front of the building and also in the back of the building.
Handicapped parking is behind building. Ramp goes into back door.
Activities
Rooms are available to private individuals and to civic organizations for rent for reunions, parties, meetings, seminars and performances. Bachman has one of the largest auditoriums on the mountain, seating 325; a cafeteria with kitchen that seats 100; rooms for small meetings; a ball field and a fully-equipped playground.
Regularly scheduled activities and events include:
127 Sale Fundraiser
Bridge Classes and Club
Twirling Classes (United Twirling)
Dance Classes (Tutus & Tapshoes Dance Studio)
Thursday Painters (Mountain Art Guild) - a place for artists to paint and share 10-3 pm on Thursdays
Girl Scout Troop meetings
K-5 Summer Camps
The Garden & Art Expo - one of this area?s largest gardening shows
Bachman Community Garden - rent a space and grow tomatoes in our organic garden
Gardening Lectures - occasional presentations by mountain garden clubs
Geneology Seminars - Signal Mtn. Geneology Society
Magic Tree House Summer Book Club for K-5th graders
Preschool Storytime on Fridays at 10:00
Signal Mtn. Girl Scout Day Camp - every June
The Annual Garden and Art Expo in April
The Annual Chili Cookoff the first Saturday in November
Yoga classes (Gentle, Yin, and Yoga for Seniors)
Bachman is the home of:
Bachman Community Library, a free library, features collections of mysteries, novels, children?s books, videos and DVDs, and audiobooks. Hours are 10 am -12 pm Tues., Thurs., and Sat., and 4 - 6 pm on Thurs. Beginning February 1, Bachman Community Library will offer a Storytime for Preschoolers every Friday from 10:00-10:30. Children of Walden?s Ridge ages 3-5 are invited to join Miss Lissa for interactive and age-appropriate stories, songs, creative movement and finger-plays. Storytime is FREE and younger siblings are welcome, so call to register.
The Bachman Bargain Barn Resale Shop, a thrift store open on the first and third Sat. of each month 10 am - 1 pm. The Bargain Barn sells toys, small household goods, linens and clothing for adults and children. Please leave donations at the designated area behind the building at any time.
The Mountain Art Guild (MAGI) - MAGI sponsors workshops, open painting days and exhibits of local art.
Signal Mtn. Girl Scouts - The central office for all Girl Scout activities on the mountain is also the location for some troop meetings.
Tutus and Tapshoes Dance Studio - Classes in ballet, tap and jazz dance for children and adults
Signal Mtn. Lacrosse - teams for boys and girls
Mission Statement
Our mission is to foster a sense of community by supporting programs and events that reflect the needs of all residents of Walden's Ridge, while continuing to preserve our historic building as a community resource.
History
A New School for the Mountain
Fairmount Academy, the first state-authorized public school in Hamilton County was founded in 1858. Fairmount Grammar School, which was located at the site of the present Mountain Opry building, replaced Fairmount Academy. In 1933, the Hamilton County Board of Education approved construction of a new building for Fairmount to include eight rooms and an auditorium at a cost of $35,000. The noted local architect Reuben Harrison Hunt designed the school. The building was completed in the summer of 1937, and was named Nathan L. Bachman Elementary School in honor of the late U.S. Senator ?who was a consistent champion of public education and whose residence was in the community?.
Changes to the original building structure included the addition of indoor restroom facilities in the early 1950?s, the building of two additional classrooms for the kindergarten, and the cafeteria addition in 1954. Facilities were modernized in 1975 and again in 1984.
Bachman always had excellent teachers with a strong basic academic program. Subjects taught included arithmetic, reading, spelling, English, history, geography, and Bible. The first principal, Virginia Dotson, also served as a teacher, and other teachers taught extra classes in music and chorus, and kept the library open. Recess was filled with softball, football, basketball and traditional games such as jacks and jump rope. The first students rode a horse-drawn wagon to school, and utilized outhouses.
Over the years, the school varied in the grades offered but basically consisted of grades 1-8, with the later addition of kindergarten. When the mountain schools were paired in 1975, Bachman was changed to grades K-3 (later K-2). Bachman Elementary was known in the community for the feeling of warmth in the school and the caring attitude that typified the faculty and staff. In 1998-99, its final year as a school, Bachman was the home of the Hamilton County Dawn School program.
Carnivals, Royalty and Graduations
The Bachman Carnival was initiated in the late 1940?s. It began as an indoor event held on a night near Halloween. Each grade had a booth or project to raise money that provided playground equipment, first aid supplies, a piano, and auditorium curtains, among other items. Activities included cakewalks, square dancing and a ?spook house.? The Carnival soon became known for the yearly auction.
Revived in the 1970?s, the carnivals became outdoor events that attracted large crowds to buy crafts, purchase items from mountains of used toys, participate in cakewalks and pony rides, and eat copious amounts of delicious homemade food. One of the most successful yearly carnival events was the auction of a handmade quilt, usually a Dresden Plate design in the Bachman colors of kelly green and white. The Carnivals were extremely successful community events. Funds raised over the years provided an art teacher, instructional supplies, computers, televisions, and air conditioners, as well as playground and sports equipment.
An annual May Day program held in the 1940?s and 1950?s featured a May Pole dance and the crowning of the May Queen and King. The stage for the event was set up on the front lawn, sometimes with a backdrop of large American flags, and the entire community attended.
The Eighth Grade Graduation program presented the new graduates dressed in white dresses for girls and suits for boys. It was held in the auditorium.
Modern school events included choosing a King and Queen of Hearts for Valentine?s Day, Thanksgiving pageants, visits from Santa Claus, school plays and PTA fundraising dinners. Field Day, held during the last week of classes, featured a huge family picnic and many kinds of traditional outdoor games and sports, including a long jump, biggest smile contest, obstacle course, tug-of-war, hula hoop championship, and sack races. Ribbons and prizes were awarded to the many winners.
A Community Center for All
In 2000, the Bachman Center Council, Inc., a 501(c)(3) nonprofit organization, leased the building to create a community center in the Town of Walden. Named Bachman Community Center, the Center?s mission was ?to provide educational, social and wellness programs to benefit all residents of Walden?s Ridge?. The building was placed on the National Historic Register. With the aid of Signal Mountain Bible Church and two Eagle Scouts, building repairs began. In 2002, they received a matching grant from the Community Foundation of Chattanooga, as well as contributions from civic organizations and private donors, to replace the badly leaking roof. In 2007, new gutters replaced the old leaky ones. Work continues on the restoration of the historic building, supported by donations and fundraising. Fundraisers conducted in the past five years included the Jambalaya Dinner, the Garden & Art Expo, sales at the Hwy. 127 Yard Sale, additional yard sales, the Southern Belle Cruise and Dinner, advertising booklets, and the Bachman Bargain Barn Resale Shop.
A Community Center that Works
Organizations currently using the building and grounds of Bachman Community Center include the Mountain Art Guild, Tutus & Tapshoes Dance Studio, Signal Mountain Girl Scouts, Signal Mountain Newcomers and Signal Mountain Lacrosse. Bachman sponsors a yearly Math Camp for mathematically-challenged elementary students, and hosts the annual Signal Mountain Girl Scout Camp in the early summer. At Bachman Community Library, patrons can check out movies, audiobooks, novels, mysteries and children?s books for no charge. Up to thirty gardeners grow vegetables organically in the Community Garden behind Bachman. The yearly Garden & Art Expo is one of this area?s largest plant sales. Starting in 2008, Fairmount Precinct voters will be coming to Bachman to cast ballots on Election Day.
Programs varying from bridge classes to the Signal Mountain Junior Miss Program have been held in the various classrooms, cafeteria and auditorium. Bachman?s auditorium is the largest on the mountain. It has a professional lighting system, backstage areas, a sound system and full curtains. The auditorium seats up to 350. The Bachman cafeteria has seen a wide variety of programs including art workshops with nationally-known teachers, plant sales, genealogy lectures, scrapbooking club meetings and wellness presentations. A large room with windows down one side, the cafeteria seats up to 100 at tables. The Bachman kitchen, in tandem with the cafeteria, has been used for fundraising dinners, sports banquets and family reunions. In addition, several classrooms, the playground and ball field are available for usage by individuals and community organizations for parties, reunions, meetings, performances, classes, games and workshops.
Contact Bachman Community Center at to schedule your next event at a community center that works.