Bachman Community Center
Articles & Newsletters
published on 04/04/2006


May Day and Reunion to be Held at Bachman

By
Mountain Arts Guild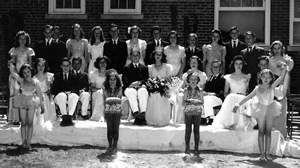 1953-54 May Day Court

Did you attend Bachman Elementary School? Do you remember the annual May Day celebrations? Bachman Community Center (BCC) is collecting photographs of school activities, classes, principals and teachers for exhibit at the Student Reunion and May Day Celebration on Sat., May 6, 1-4 p.m. Help us identify the people in the photos, reunite with old friends, share your school stories and watch as the students from Tutus & Tapshoes Dance Studio remind us of the old days by winding the maypole on Bachman's front lawn. See what has been done with the building and learn about Bachman's current classes and programs.

During the early decades of the school's history, the annual Bachman May Day was an event attended by the entire community. It included the election of Bachman Royalty and a Royal Court, and a maypole dance, as well as other activities. Much of the school's history was lost when the building ceased to be a public school. Documents and photos disappeared. A committee of former students and BCC volunteers has been working on reconstructing the history of the school and its place in the Walden's Ridge community. They have been gathering information, stories and photographs for months. Now they need your help. Please contact them now by calling or by e-mailing if you have anything the committee can use. Stories, especially those of naughty behavior, are especially welcome.

The Bachman Student Reunion and May Day Celebration seeks to honor former principals, teachers and staff, as well as students. Help BCC to reconstruct the history of the school from the 1937 construction of the building to the closing of Bachman Elementary School in 1999. Bachman Community center's mission is to provide educational, social and wellness services for all residents of Walden's Ridge. Funds raised go to support ongoing community projects and programs and the continued restoration of the historic Bachman building.

Pictured:
King Nicky Bell and Queen Mildred Griffith reigned over the 1953-54 May Day Court at Bachman Elementary School. Bachman seeks help with identifying the rest of the students pictured.