Town
Newsletters/Articles

Signal Mountain Fun & Fitness
The Town of Signal Mountain offers a full range of recreation services throughout the year. They include softball, baseball, soccer, tennis, basketball, summer day camps, arts and crafts, karate, volleyball, flag football, gymnastics, aerobic exercise, and swimming. Group lessons and clinics are available for a number of these activities.
---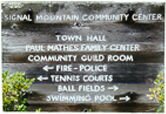 Paul Mathes Community Center
1111 Ridgeway Avenue or or call Town Hall
The gym at the Community Center is open year-round for free play and organized activities and may also be reserved for private use. A newsletter detailing summer activities is sent to mountain residents each spring. Sign-ups for youth team sports are usually announced via flyers sent home from school.
---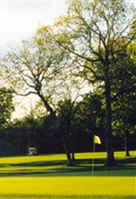 Signal Mountain Golf & Country Club
809 James Boulevard or or call Town Hall
Web Site: www.smgcc.org
The golf course is part of the private Signal Mountain Golf and Country Club. A playground, picnic pavillion, tennis courts, and two ball fields, located behind the Club, are open to the public. This area is the location of the popular Lion's Club-sponsored Fourth of July and Labor Day picnics.
---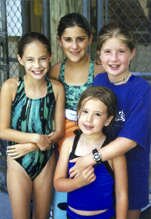 SIgnal Mountain Swim Team
Join the Signal Mountain Green Giants swim team.
Contact: Christine Gordon -
Signal Mountain has an outdoor Olympic-size pool located adjacent to the Town Hall. It is open from late May until Labor Day. An admittance fee is required, which may be paid per visit or by buying a pass. The pool is also available for rental.
Swimming lessons are offered by certified Red Cross Water Safety instructors. Beginning-Minimum age 5 years old.

Learn basic safety skills, float and crawl stroke.
Advanced-Minimum age 6 years old. Learn rhythmic breathing, treading water, diving, underwater swimming, backstroke, crawl stroke and safety skills.
---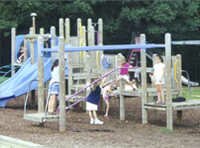 Summer Day Camps
Camp sessions are usually 3 to 4 weeks in length and take place at Paul Mathes Community Center. Playground - enjoy arts and crafts, kickball, soccer, relays, games and group singing, rope jumping, and swimming instruction. Grades K - 2; Mon-Fri 9AM-11:45AM Junior Adventure Camp - tennis, softball, basketball, volleyball, crafts, weekly contests, kickball, special events, and more! Grades 3 - 5; Mon-Fri 9AM-12:00PM
---
Summer Sports Clinics
Boys Baseball - join boys of all ages in instruction and pick-up games. A professional coach and former college baseball player will be present each day for instruction. Basketball - Boys and Girls basketball clinics are offered during the summer for ages 7-10. Drills in passing, ball handling, defense and shooting will be taught daily Tennis - Ten all weather courts are available to the public, 6 of which are located behind the Town Hall. Other courts are located behind the Signal Mountain Golf & Country Club. Courts may be reserved from April 1 - Sept. 30. Lessons are available. For information call .
---

Signal Mountain Soccer League

P.O. Box 267
Signal Mountain, Tennessee 37377

website: www.signalmountainsoccer.com


S.M.S.L. is entirely made up of volunteers, so we are always looking for volunteer coaches and commissioners as well as seasonal field cleanup volunteers ? just mark the registration form where you can help.

If you have questions you can call Lizetta Paturalski at or see the Signal Mountain Soccer League website for more information.

Come join the fun!
---

SIGNAL MOUNTAIN YOUTH
BASKETBALL LEAGUE, INC.
P.O. Box 32
Signal Mountain, TN 37377

Printable Registration Forms:
(download free software for viewing and printing Adobe Portable Document Format (PDF) files)

Introduction Letter
General Registration Form

---

Signal Mountain Girls Softball Association

website: www.smgsa.com


2005 Registration:
February 19 & 26th at the Signal Mountain Town Hall
9:00am - 1:00 pm

This registration form can be printed and mailed with payment.

Evaluations ~ Saturday, March 5th
(Held at the Ball Fields behind the Country Club)
Age 5-6 - No Evaluations/Assigned to a team
Age 7-8 - 9:00am to 10:30am
Age 9-12 - 10:30am-12:00pm
Teens - 12:00pm to 1:30pm